If you've not yet snapped up a New Year's bargain, there's still time to shop in the January sales! Whether you want to shop for fashion, homeware, travel, toys or gadgets, now is the time to grab a great deal!
Here are five great offers and sales that we think you'll love!
1. New Look – Up to 70% off sale
If the New Year leaves you wanting to refresh your wardrobe and revamp your style, make the most of the sales and grab a bargain or two or three or four…one can never have too many shoes, right? At New Look, you can get up to a massive 70% off in the sale. With clothing, shoes and accessories for men, women, teens and children, shop now and get up to 7% cashback.
2. Hotels.com – 12% off summer destinations
Have the January blues made you dream of a summer getaway somewhere exotic? Succumb to your travel desires and book your holiday with Hotels.com. Whether you fancy a city break in Europe, a beach holiday in the Bahamas or even a staycation here in Britain, Book now and earn up to 6% cashback! Plus, get 12% off on any summer destination when you stay for 5 nights or more.
3. Toys R Us – Save up to half price on Toys
Save up to half price on toys, bikes, scooters, ride-ons and more in the Toys R Us winter sale. Now is the perfect time to stock up on birthday gifts for the rest of the year as you can buy them at a fraction of the cost. Or you could be super organised and start buying for next Christmas but just bear in mind that their interests could change although items like bikes and scooters will never go out of fashion. Shop the sale now and get 3% cashback on all online sales!
4. Sports Direct – Up to 80% off
If your New Year's resolution is to hit the gym and work off all that festive overindulgence, look the part with active wear from Sports Direct. With trainers, base layers, sweat pants, running clothing, swimwear and more, shop now for some real bargains ready to work up a sweat. Get up to 80% off in the sale now as well as 5% cashback.
5. Harveys Furniture Store – Sale ends tomorrow!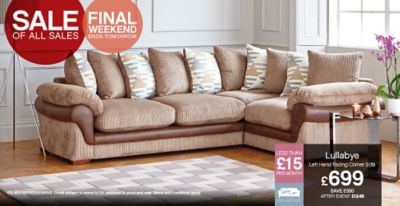 If you are looking to buy a new sofa in the January sales or maybe even new dining room furniture, act fast as the Harveys Sale ends tomorrow! If you've been waiting for the best price and the best deals, the January sales are the perfect time to buy when you are shopping for those big ticket items. Harveys is one of the leading retailers for lounge and dining furniture and with 3% cashback on all sales, shop now for huge discounts!